Champion Classics, Inc., built the Wolverine Supercar, www.wolverinecar.com, and as a result of building the molds for that limited number production supercar, we had devised a kit to turn a 67 - 68 coupe into a fastback. Our kit is unique in that it is composed of one piece. This part is illustrated below in the description of the kit, and comes primed ready to install.
We are currently developing a pictorial manual that will enable someone with minor experience to install the kit. The necessary skills include welding, and cutting either with a plasma cutter or saws-all, as well as body working.
The kit includes:
1: Fiberglass Fastback roof from A-pillars to the Deck Lid, down to the upper quarter panels; outer surface will be primed ready for paint.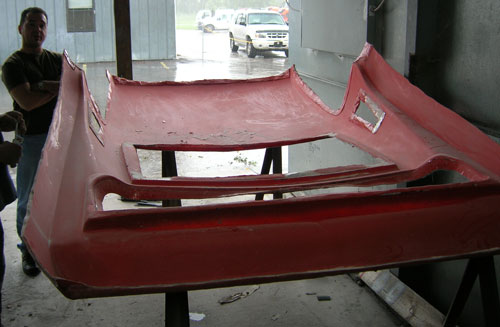 2: Roll Box - 16 gauge steel reinforcement will be sandwiched between the roof and U-shaped fiberglass inner panel down to the floorboards, adjacent to the door posts.
3: U-shaped fiberglass inner panel molded from the original sheetmetal; from the floorboards to and across the inside of the roof.
4: Complete pictorial illustrated installation manual. (pending)
5: Installation Help Line 24 / 7 9 AM - 6 PM EST
6: Money back guarantee for all unused parts.
Price $3,500 (kit only)
We can install the kit on a customer's car for $5,000, which includes all the welding, and bodywork necessary to ready the car for paint, the rear window glass, and rear deck lid.
We also offer complete restorations, paint and body services. The prices will be determined after throughly inspecting the car.